Kansas City, KS
---
Paramahamsa Prajnanananda at CMSU Oct 26
At the invitation of Prof Marla Selvidge, Chair, Department of religious studies, Baba Prajnananandaji taught two classes at the Central Missouri State University. Creativity and World Religions was the subject of the world religion class of 90 students and "Loving Your Neighbor can change the world" was the topic for the ethics class of seventy students. The students and staff had the opportunity to witness a video presentation of our humanitarian projects – Balashram, and Hand in Hand. Following the lectures was a book signing ceremony where students lined up to buy Baba's books and get them autographed. A television interview came next where Prajnananandaji answered questions on Kriya Yoga and the Centenary celebrations.

At the Johnson Community College Oct 27
A public lecture on Yoga for Health and Wellness was held at the Johnson Community College of Kansas.
At the Hindu Temple Expansion Program Oct 28
Prajnananandaji inaugurated the Hindu Temple Expansion event where he thrilled an audience of 300 people of the Hindu Community with his inspiring message. "Expansion of the temple is good" said Baba "but along with that we also have to expand our hearts and love to embrace one and all. Through worshipping the forms we have to go beyond to perceive the formless Brahman in one and all and everywhere."
The Birth Centenary Program Oct 29
The Centenary event was a work of art and love of the Kansas Kriyavans. The Ball Conference Center in Olathe, Kansas was a scene of festivity traditionally decorated with rangoli, flowers and Kalashas everywhere. The altar of the lineage of Masters adorned with flowers and lights was a temple in itself. Gurudev with this compassionate smile and benevolent gaze appeared to be blessing the congregation from the center of the altar. The dais was another piece of art set against the backdrop of the banner "A celebration of love and peace" draped on either side with orange and gold silks alternating with colorful flower garlands. A photo exhibition displayed the many educational and charitable activities of the mission and our many publications.
The conference center was filled to capacity with over 200 guests. The event had a tremendous public support with The Hindu Temple of Kansas City, The Central Missouri State University and CRES, cosponsoring the event showing their love and reverence to gurudev and his teachings.

A special feature of this celebration was the participation of the students of Religious studies from Universities and Colleges from the Kansas area along with their professors to learn about Indian culture and the life of a great Yogi. Paramahamsa Prajnananandaji began the evening with lighting the lamp while Brahmachari Vidyananadaji recited the Vedic prayer -"Lead us from falsehood to Truth, from darkness to light and from death to immortality."– A practice in Hindu celebrations from time immemorial. Anjana Devi welcomed the guests to the global celebration on behalf of the Kansas Kriya Yoga center and Sudha Bathina introduced the interfaith panel speakers:
Arvind Khetia of Hindu Temple and Vedanta Society
Rev Vern Barnet DMn, minister emeritus, writer, speaker, consultant CRES community resources engaging the spirit
Prof Marla Selvedge Chairman and director of religious studies,CMSU - Central Missouri State University
Paramahamsa Prajnanananda – President Kriya Yoga International, Founder Prajnana Mission
The speakers gave inspiring talks on the theme "Religion and Human possibilities"
Arvind Khetia talked about human possibility from a Vedantic understanding. He explained how both animals and human beings eat, sleep and procreate, but what gives purpose and meaning to human life is the ability of a human being to recognize, evolve and ultimately realize divinity within and within all. Vedanta understands that Brahman or God alone is real and all else is illusory. Arvindji stressed that divine potential can only be harnessed if a human being practices and consciously participates in his own evolution towards divinity, namely through spiritual or religious practice.

Rev Barnet's talk drew on the wisdom of the Native American Indian tradition as well as the timeless and ancient teachings of India. He talked about Sacredness in life and how spirituality or religion can ignite and enrich our appreciation of the Sacred within our most ordinary experiences. His message touched on many fundamentals of Kriya Yoga, namely to love God or the Sacred in every breath. He explained that when we do this we can feel the interconnectedness of all things. We no longer feel separate, isolated individuals but sparks of the same fire giving light through understanding and warmth through love to all of humanity. He was very encouraging of all the charitable work undertaken by Prajnana Mission, especially for the children in Balashram.
Prof. Marla Selvedge gave a beautiful and creative visual presentation which reflected how religion or love of God can inspire individuals to great works of beauty. Her slide show detailed monuments, churches, temples, people and practices from the many religious traditions, Islam Christianity, Buddhism, Hinduism, Native American Indian, Judaism and Jain throughout the world. She was sorry she could not give a more comprehensive representation in the short time allowed for her talk. She sensitively interwove an informative talk with an appreciation of Gurudev, his teachings and his maxim, "Religions are many, God is one."
Paramahamsaji's address was a personal reflection on his loving relationship with his Guruji. His remarks reminded us about the love of Gurudev and how God is love and His creation is born of love. In the New Testament, St. John writes of Jesus, "I loved Him because He first loved me." "We are the children of love. We have come from that source of love; we should live in love and return to that love. Religion means re-union with that source of love." In a gentle and heartfelt way, he sincerely asked us, can we not change and embody more love, purity and compassion in life? The talks were followed by a video presentation on the life of Gurudev and on Balashram, our free residential school that the mission runs in the state of Orissa for under privileged children. Unique devotional music followed by local artists.
The ceremonies ended with a grand banquet dinner in honor of Gurudev. Other highlights of the programs were video presentation of the life of Gurudev, of Balashram, our free residential school that the mission runs in the state of Orissa for the under privileged children. Rare devotional music followed by local artists. The ceremonies ended with a grand banquet dinner to all in honor of Gurudev.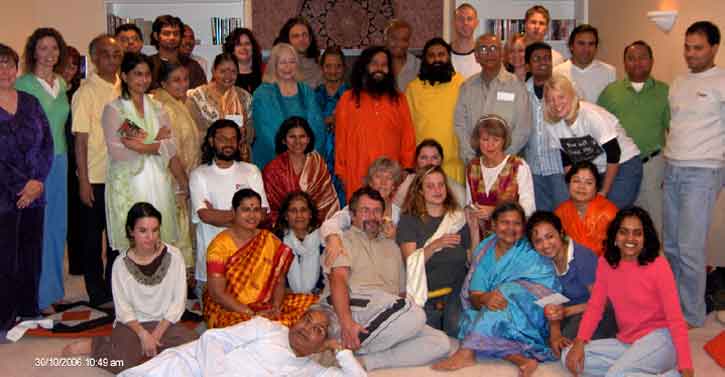 Kriyavans came from all across the country far and near - Dallas, Denver, Wisconsin, Colorado, Florida, California and Missouri and`New York and rejoiced in the memory of gurudev and his teachings. It was truly a celebration of love and peace