Charlotte, NC
---
Celebration of Love and Peace
October 20 – 22, 2006
Charlotte Kriya Yoga Center had its humble beginning in April, 2005 with only five Kriyavans when Paramahamsa Prajnananandaji blessed them in Cincinnati to start the Charlotte Kriya Center. We were thrilled to hear this, but we did not know what it meant to open a center. We were unsure, but the group of five continued its meditation and prayers every week, hoping that one day we would also be able to host a Kriya program. Our prayers were heard when we received a call from Katherine Ma, asking us if we would like to host Baba Hariharananda's Centenary Celebration in Charlotte. We were ecstatic to hear the news; it was a dream come true. We immediately took the offer and confirmed the program and its dates on the phone so that we would not miss this opportunity.

The phone call marked the beginning of the preparation for the event. Our preparations continued until the final day when we went to the airport to receive Brahmachari Vidyanandaji the evening before the program. As soon as we saw Vidyanandaji, we were assured that everything was going to be alright and we felt extreme calmness as we watched him come down the steps. Before we could express how anxious we were, he assured us all that everything was going to be alright because Gurudev's blessing were with us and he is acting through us. We all took comfort in his words and drove home in his holy presence. Yogacharya Elizabeth Tackenberg arrived on the day of the program, October 20th.
For the Centenary Celebration on the twentieth, we got tremendous support from many more volunteers than what we were expecting. Everything perfectly fell in place for the opening of the program at seven o'clock. The event hall was shining with Baba's exhibition posters and pictures underneath the light. Vidyanandaji and Elizabeth Ma inaugurated the ceremony with the lighting of the lamp. Within minutes of the opening, the hall was full to its capacity with one hundred twenty adults and children. The evening continued with a short cultural program and introduction of the gurus. Both Vidyananadaji and Elizabeth Ma delivered heart warming speeches about Baba's life and made an introduction about Kriya Yoga. They won the hearts and minds of the crowd. They calmly enjoyed the guru's speeches for more than ninety minutes. We were worried that the children would be a disturbance during the program, but shockingly they all quietly gathered in a room and played, as if they were also mesmerized by Gurudev's magic.
The evening celebration continued with devotional songs, dances, and ended with dinner, which was blessed and served by both Vidyananadaji and Elizabeth Ma. A number of people praised the success of the program and as the volunteers packed and cleaned the hall, I remembered Vidyananda Ji's words of assurance at the airport that everything will be alright with Gurudev's blessing. We could not believe how smoothly the whole event was accomplished.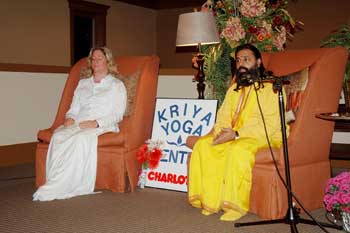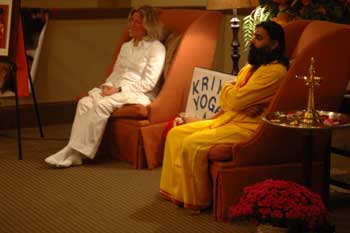 Eleven people were initiated the next day, October 21st. Suddenly our meditation group size was tripled. We started with five Kriyavans in 2005 and now our group has grown to sixteen Kriyavans. We closed the evening on the 21st with Deepawali, the Hindu Festival of Lights, and dinner in the presence of Vidyananadaji and Elizabeth Ma, along with new Kriyavans, their families, and other friends.
The program was concluded on the evening of October 22nd, allowing new Kriyavans to experience four meditation sessions with the gurus. We ended the evening with dinner for all who could stay and a small city tour of Charlotte for Vidyananadaji and Elizabeth Ma. You may not know, but Elizabeth Ma has family roots in North Carolina, but we were unable to take her to her family city, because it got too late. So, the Charlotte Kriya Yoga center has some unfinished business to accomplish: to invite Elizabeth Ma once again so that, not only we can meditate with her, but also take her to her family city.
The most difficult part of this program was to bid farewell to Vidyananadaji and Elizabeth Ma. They stole our hearts and we did not want them to leave us. It was a heart breaking farewell where all of us cried. The house which was vibrant, full of love, and peace for last three days, suddenly felt lonely and void when we returned from the airport, but fortunately, the opportunities we had been able to experience were permanently embedded inside our hearts and minds.
We would like to thank Prajnananandaji for blessing us to start the center, Vidyanandaji and Elizabeth Ma for their presence and love, and all the volunteers who were able to help us in carrying out this successful program.