Austin, TX Retreat
---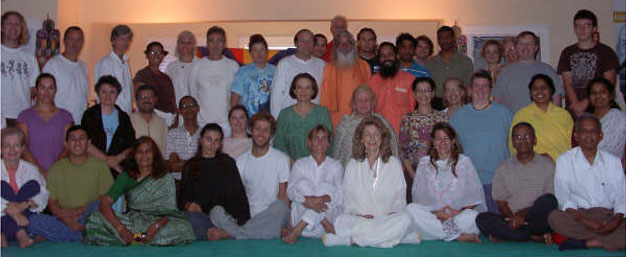 Austin Centenary Program
The Austin Centenary Program began on Thursday, July 13 with a beautiful initiation ceremony for new kriyavans by Yogacharya Don Baba.
The spiritual leaders then spoke. Unity Minister Freida King from Houston spoke beautifully on Love and Peace and Rabbi Monty Eliasov taught the twelve names of God by playing his guitar and singing.

| | |
| --- | --- |
| Thursday evening's public program "A Celebration of Love and Peace" fostered awareness of Gurudev's great accomplishments. Paramahamsa Prajnananadaji gave a welcoming talk, which was followed by Austin kriyavans Cheryl Gallagher and Kris Barnes playing the harp and guitar and singing Yoganandaji's songs to Baba. | |

Shannon Mondrell sang inspiring and healing music. There was exquisite classical Orissa music by the Snigda Mishra Group, who sang songs of Tagore, and the divine Odissi dance dedicated to Baba and God by Bana Ramanath was so beautiful.

He helped reinforce Baba's saying: "Religions are many, God is one." Prajnananandaji graciously presented the performers with Baba's books as his thank you. The Sri Atmananda Memorial School Auditorium was filled to capacity. So much Guru Bhakti for Baba!
Friday, July 14 began with opening ceremonies for a four-day Silent Retreat at the beautiful ashram setting of Barsana Dham in the Texas Hill Country. The theme of the retreat was "A Celebration of Love and Peace". Paramahamsa Prajnananandaji, Swami Samarparanandaji, and Yogacharya Don Baba offered their loving guidance to the 54 participants, with 5 ½ hours of blissful meditation and 2 ½ hours of classes each day. Such beautiful and divine Baba stories we heard!
We were so blessed to have this opportunity to deepen our practices — and with three teachers!
For more photographs, please view the Austin Retreat photo album.