Guru Purnima Chicago, Il,
---
Guru Purnima Celebration
Chicago July 7-11, 2006

Over 200 guests assembled in the beautifully decorated auditorium for the public event on July 9 at the Ramada Inn, in the Chicago area. The dais was set against the backdrop of a colorful banner depicting the theme — "A Celebration of Love and Peace." Gurudev Hariharanandaji's portrait taken on his birthday in Chicago in 1994 adorned the stage. The monks and yogacharyas were ushered in with the auspicious conch blowing and recitation of Guru stotras. Paramahamsa Prajnananandaji, head of the Kriya organization and the spiritual successor of Paramahamsa Hariharananda, presided over the program.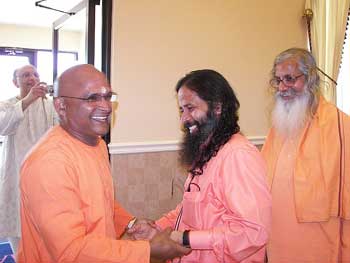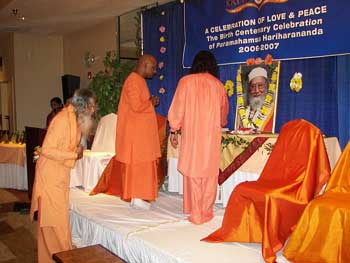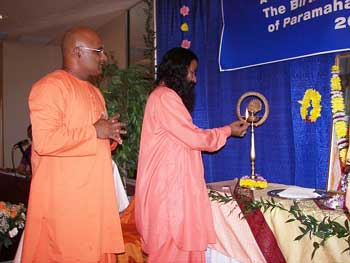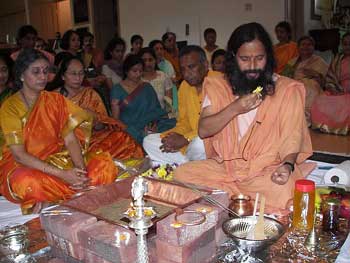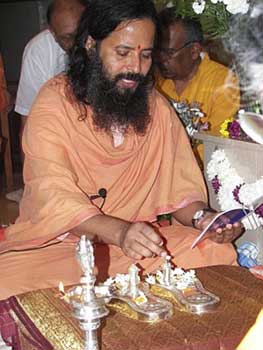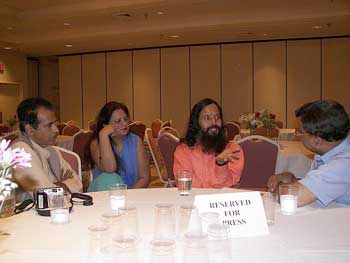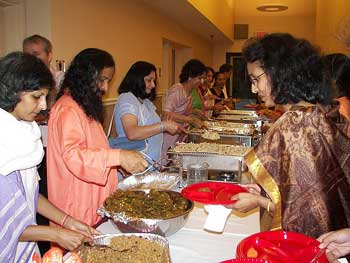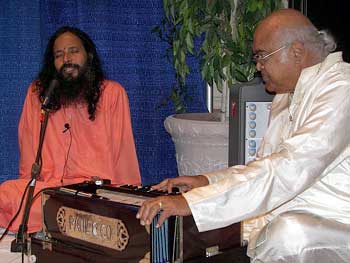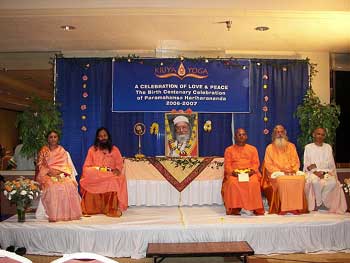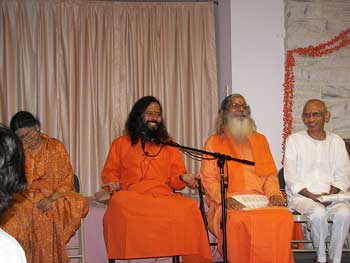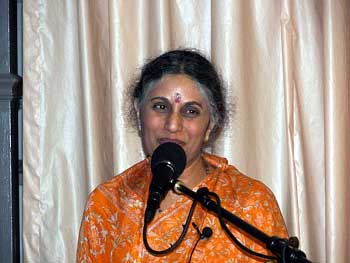 A prayer and lighting of the lamp by Prajnananandaji began the events of the evening. The teachers were introduced and garlanded. Present on the dais were yogacharya and Chicago Kriya Yoga center leader Durga Chunduri, invited guest Swami Sharanananda of Chinmaya Mission Chicago, Swami Samarpanananda Giri, and yogacharya Bhadrayu Pandya of Cincinnati.
| | |
| --- | --- |
| | Durga Chunduri of Chicago Kriya Center, a longtime disciple of Hariharanandaji, with great love and reverence recollected her association with Gurudev and how he directed and guided her at every step of her life. She talked about Gurudev's universal teachings and how he had disciples from every walk of life — doctors, engineers, politicians, farmers, and many others. He was so highly revered that after his mahasamadhi, when his body was flown to India, he was received with a guard of honor from the state government at the Bhubaneswar airport. This was the first time that a monk had received such an honor. |
Swami Sharananandaji addressed the commonly asked question of whether it is necessary to have a living guru. Quoting the scriptures he said, acharyavan purusha veda: To realize God, a devotee has to follow the directions of a guru, who can understand and guide the disciple. Offering his salutations to Gurudev Hariharanandaji, Sharananandaji said awareness of one's Self and firm devotion to the lotus feet of the guru are the only means to cross the ocean of delusion.
Swami Samarpanananda Giri said the true purpose of celebrating this Birth Centenary is to avail the opportunity to honor the necklace of human civilization, which is made from the beads of the precious teachings of the great masters, who serve as our guiding light.
In his presidential address, Paramahamsa Prajnananandaji began by bowing to his master who taught him how to love and how to live, and then spoke about Gurudev's life and teachings. He drew a comparison of Gurudev with Sant Kabir, a poet, saint, mystic, and a great devotee of the Lord. Quoting a doha of Kabir that says:
At the time of birth you are crying while those surrounding you are laughing. One should live in such a way that when you are leaving you are smiling while others are crying,
Prajnananandaji recalled how at the time of mahasamadhi Gurudev's face was radiant with peace, love, and happiness.
He said that the real Himalayan caves of the yogis are not outside us, but can be discovered within if we have real desire. One should seek freedom from one's own mind and be free. Prajnananandaji pointed out that Gurudev was born on a full moon day in the hot summer and left on a new moon day in the cold winter. Spiritual masters come into the world like light. His leaving on a dark night might be to remind us to awaken and live like a lamp, which illuminates itself and also gives light to its surroundings.
Prajnananandaji also referred to Gurudev's life of service. He shared the episode of how Gurudev cared for a beggar boy as his own child and educated him. Later the boy later became the general manager of a reputable company. He concluded saying nothing is impossible if we want to change our lives, and inspired the audience to meditate more and to bring that source of love into daily life and to maintain it.
A souvenir book compiled by the Chicago Center was released in honor of Gurudev Hariharanandaji. The program continued with devotional music by renowned artist Patrick Marcs and his students. To the great delight of the devotees, Prajnananandaji also joined in singing favorite songs of Gurudev in Oriya and Bengali languages. The program concluded with a vote of thanks and a delicious dinner prepared by many dedicate disciples.
Guru Purnima — July 11, 2006
On July 11, 2006, Guru Purnima was celebrated in the divine presence of Baba Prajnananandaji at the Chicago Center. Baba Prajnananandaji performed the abhisheka to the Guru Padukas while disciples chanted the purushasukta, and the padukapuja was done reciting the 108 names of Gurudev. After arati, all those present had the opportunity to offer flowers and bow to the holy sandals of Gurudev while gurupadukastotra was chanted. A havan (fire ceremony) followed. After the completion of havan and arati, there were devotional songs and everyone received prasad and blessing from Baba Prajnananandaji. All enjoyed the festive lunch that followed. A special satsang and meditation and devotional songs was held from 5:00 to 8:00 pm, and concluded with prasad.