International Congress for Peace Frankfurt, Germany
---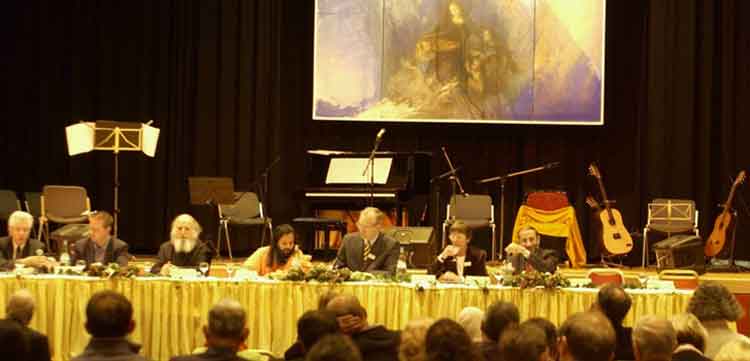 5. November 2006
Bad Soden, near Frankfurt am Main (Germany)
Despite the alleged advantages afforded by Globalization in Politics and Economics, the world has an increased fear of the Clash of Cultures. Religious and cultural differences lead us into fanatical conflict with foreigners. Referring to this issue, we must ask ourselves: Can world peace ever be realized? In the Ramada TREFF Hotel, well-known practitioners of several religious paths - Jews, Christians, Moslems, Sufis, Buddhists, and Hindus - came together to highlight practical paths for more peace between the religions, and for more peace in all of us. Around 450 to 500 people attended.
Great teachers of wisdom have always called for the inter-religious dialogue Among those was the Indian Paramahamsa Hariharananda, who passed away in 2002, and whose 100th anniversary of his birth is being celebrated this year. Through his teachings, he brought inner peace to innumerable people.
Welcome Messages

From left: Paramahamsa Prajnanananda, President of the Congress and President of Kriya Yoga International; Ashok Kumar, Consul General of India, Frankfurt; Hidayat Inayat Khan , president of the "International Sufi Movement and son of the famous Sufi Hazrat Inayat Khan, composer, director and author; Peter van Breukelen , Yogacharya and Chairman of the Centenary Committee Kriya Yoga Europe; Swami Mangalananda , Nun in the Swami Order from Kriya Yoga International; and Dr. Mathias Schüz (Moderator), physicist and philosopher, university lecturer, author of "Unity of the Actual – the thinking of Carl Friedrich v. Weizsäcker".
"We all shall respect and love each other. Christians on the way to become better Christians, Muslims on the way to become better Muslims, Jews on the way to become better Jews, Buddhists on the way to become better Buddhists, and Hindus on the way to become better Hindus. And all on the way to the only One God." Paramahamsa Prajnanananda
It is true, that the spiritual leaders of the religions have always searched for the dialogue. But it is also true, that they consistently teach that one religion has priority compared with the other religion. Therefore, the peace congress is so important for the dialogue". Ashok Kumar
"It is our task to find the divine peace in ourselves, and to live it. For love, harmony and beauty. For ourselves and to inspire other people." Hidayat Inayat Khan
"God is the creation. We should experience this in us. Realise God in us. To experience Truth and Love. To find our peace and reality. On the way to our religion. To our all, one God. Everyone should do this in his own religion." Peter van Breukelen
The Art of Detached Involvement
with Padre Dr. Anselm Grün , Benedictine monk, economist, philosopher, bestselling-author, manager-adviser.

... Jesus focused on Peace, which emerges from the faint of Love. However, in course of time this faint of Love will be more effective than Peace hard-earned by force….
....Only the one who will have the courage to face his own truth, will find inner Peace. .... The condition for this peace is that we regard our self in a value-free way. The reconciliation begins with ourselves, with the acceptance of our being average, our own limits and situations. Reconciling, the basis of peace, is a lifetime process. Then we can make peace. The danger in our involvement to reach ideal goals is that we are over-jumping our own reality. For example, we identify ourselves so much with bringing peace, that we forget all the scopes in us, with which we live unreconciled. If we aren't reconciled with ourselves, that means split internally, then we will always split, even if our ideal of Peace is very high….
Through every exhalation you can give the willingness to entrust to God by release. Releasing during exhalation – like all sages of all religions know - this release, the release of the ego, is the basis for becoming permeable, which is higher, the real Self. Become oneself by releasing the "ego". Become oneself to experience God in us ....
Celebrate the Diversity and Highlight the Unity
with Urmila Devi, Director, "Art of Living" Europe, and singer of traditional texts in Sanskrit, accompanied by other musicians. She commented on a video interview from His Holiness Sri Sri Ravi Shankar, founder of the "Art of Living Foundation", nominated for the Nobel Peace Prize in 2005 and 2006.

A little boy found many jellyfish washed up on the beach and began throwing them back into the water, one by one. His father said, "You may as well stop, you can't rescue them all." The little boy picked up another jellyfish, showed it to his father, threw it back into the water, and answered, "It makes a difference to this jellyfish." So a boy like this was Sri Sri Ravi Shankar, who later travelled through many countries visiting people and bringing them peace and love.
Harmony, honesty, love and truth are quintessential parts of all religions. This is not only meant to be practiced within religions, but also among all human beings in all societies. These values have been put aside for the most part, therefore the mutual aim, global peace, seems to be so difficult to be attained. It is essential that these attributes are discovered within ourselves. Only a peaceful human being can teach and make peace. There are spiritual techniques to handle aggression, anger, and negative emotions. Yoga, breathing techniques, and meditation are very unique paths one can follow and reach this aim.