INAUGURAL CELEBRATION
---
Inaugural Ceremony, May 25-29, 2006
Preparations for the Inaugural Ceremony of the year-long birth centenary celebrations of Gurudev Baba Hariharanandaji Maharaj began in early May, under the auspices of Prajnana Mission, with Paramahamsa Prajnanananda in residence at Hariharananda Gurukulam, Balighai, Orissa.
To commemorate the sacred occasion a lamp lit at Gurudev's birth place in Habibpur, Nadia, West Bengal was brought to the Jagatpur ashram at Cuttack, and from there to the Gurukulam in a procession through Bhubaneswar with stops at Shri Mandir and Karar Ashram.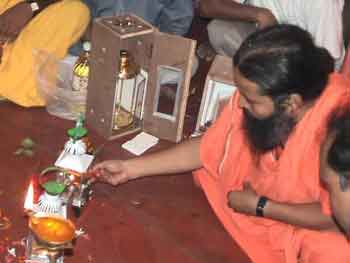 Lamp from Gurudev's birthplace
Consecration of Shri Guru Mandir

The magnificent octagonal shrine constructed at Gurudev's samadhi place, now known as Shri Guru Mandir, was dedicated to the public on the 24th of May by Paramahamsa Prajnanananda.

There was an all day special worship and fire ceremonies conducted by Vedic scholars following strict Vedic injunctions. The cenotaph of Gurudev was unveiled around noon amidst Vedic chanting and devotional songs by disciples and devotees assembled from all corners of the globe to witness the event and pay their respect. Arati and prasad followed.

The evening ceremonies came to a conclusion with a chandihavan, a fire ceremony, invoking the blessings of the Divine Mother and arati in the Guru Mandir.


Arati

An imposing monument forty feet high, of rare architecture, intricate jali work, stained glass windows, arched doorways, huge glass doors and marble floors, the Shri Guru Mandir is a piece of art, a priceless jewel of love and dedication which will herald through the ages to come. The love Gurudev Hariharanandaji invoked in his devotees and the will and vision of his chosen successor Baba Prajnananandaji and the utter dedication of the monks of Prajnana Mission who immortalized their love for the master with this land mark in the history of Kriya yoga is ever-present.

Procession to Puri


Consecration


Havan



The sanctum sanctorum of this epitome of peace, bliss, and joy, houses the samadhi, the final resting place of Gurudev's mortal remains. The life-like five and a half feet marble cenotaph of Gurudev blessing the devotees faces east and on either side, the walls of the inner shrine have the sculptures of the lineage of masters, beginning with Mahavatar Babaji. The shrine can accommodate at least forty people at a time. The outer octagon encloses a space that easily accommodates up to 500 people and has 24 open arches and is surrounded by ponds with blooming lotuses and vast green lawns. A five-foot lotus bud of reinforced concrete crowns this architectural marvel designed by the reputed architect Histadas Darnania of Mumbai.


Inauguration



The day of the inauguration of Gurudev's birth centenary started early in the pre-dawn hours with

sankirtan

lead by Baba Prajnananandaji through the ashram grounds followed by disciples singing the name of the guru. At 5:00 am meditation was held in the newly consecrated Guru Mandir.

A

sankirtan

was also held in the city of Puri. Hundreds of devotees bracing the hot summer sun joined Baba Prajnananandaji with Kriya Yoga banners. A beautifully decorated chariot carrying the picture of Gurudev followed. After a short stop in front of the Jagannath Temple and Karar ashram the procession ended at the seashore, a place that Gurudev often visited.

The formal inauguration ceremony was held on a beautifully decorated dais against the back drop of the magnificent Guru Mandir with Baba Prajnananadaji Maharaj presiding. The function began with a congregation of several holy parsonages of different orders offering their homage to Gurudev and the lighting of a sacred lamp to mark the beginning of the year-long celebration.

Yogacharya Anil Giridhar of Mumbai gave the welcome address and Dr. Narottam Gaan, a long time devotee of Gurudev introduced the eminent speakers: Babaji Chaitanya Charan Das of Puri, Babaji Ravi Narayan Das of Karamala Ashram, Katia Babaji of Brindavan, Swami Sadhanananda Giri Maharaj of West Bengal and Gajapati Maharaj of Puri. They paid their respect to Gurudev and lauded the dedication of Baba Prajnananandaji to his master which made the Shri Guru Mandir, a tribute to the masters of the lineage and a place of peace and meditation, a reality.

Thousands of devotees assembled on the vast grounds surrounding the shrine listened to their inspiring and enlightening messages. Several books and CDs were released. Devotional music and dances concluded the program which was a memorable spiritual feast.

The remaining four days of the inaugural program followed the same format, with eminent speakers giving tribute to Gurudev followed by devotional singing, Odissi dances, releasing new publications, and more.

Arati

Book Release

Balashram children


Meditation in Mandir
Chariots


Inauguration


Gurudev in Guru Mandir


Balashram children

Message from Prime Minister